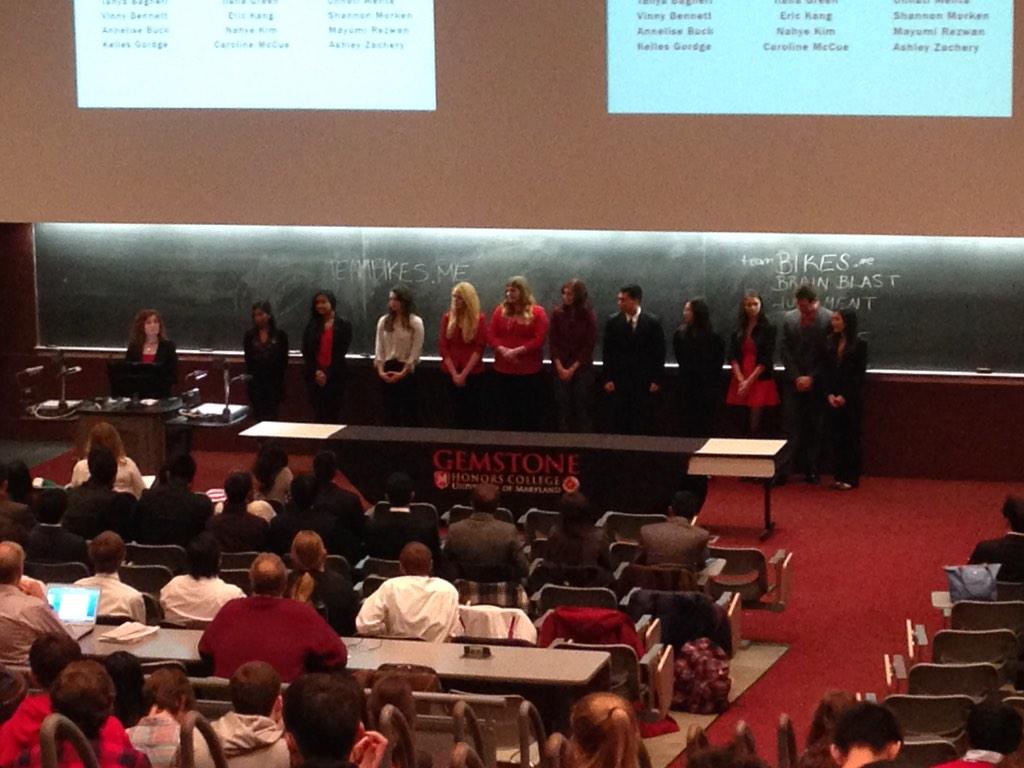 Team BRAIN BLAST, November 20
It was Wednesday, November 19th, at 6:30pm, and the lecture hall in Biosciences Research Building was filled with the sounds of GSC gift water bottles clinking on the floor and chatter among an animated audience of GEMS100 students. These students were not the only one who were excited, as the teams were also presenting to the Gemstone staff and many mentors who came to support their teams. I spoke with Dr. Coale before the presentations; he said he was most looking forward to see "the incredible progress" the teams have made since they last presented to him.
Each evening of Junior Colloquia had six teams presenting for fifteen minutes each, with another five minutes of questions. Questions came from everyone from freshmen to team mentors, and this variety made for challenging and thought-provoking questions. All of the teams were ready for the questions, and for the presentations at large. I asked Team Haptic's presenters about how they prepared, and they said they did many dry runs with feedback from their mentor and teammates.
Each team included a section on advice for freshmen at the end of their presentation. It was clear that each team learned something different from their experience, but some popular tips included "communicating with your team", "picking a project you love", and "knowing your project will change". As a freshman, I found the most helpful part not to be the tips, but simply seeing the projects. We talk a lot about our potential projects in GEMS100, but seeing everything these teams have accomplished is an inspiring experience. The juniors I talked to understood this sentiment. I asked Team Forget It members Charlie Urrutia and Ashwin Reddi what the best part of Junior Colloquia was. Emphatically, they said, "getting our presentation done. We've been working a year and a half on [our research], and it's great to get it out to an audience."
Congratulations to all the junior teams!
21 November 2014 - Elliot Frank